Hi everyone!! This is a long time coming, but I finally got my grandparents to take some pictures of me. They've just been so busy playing fetch, taking me on walks and runs, making me omelets, and letting me cuddle on the big bed with them that they forget to pull the camera out!
But since they noticed I have a habit of crawling up into their outside chairs they thought they'd get me something of my very own. See below it's one of those outdoor elevated cot/bed thingies. And see their chairs in the background? They're almost the same type of material so I love it already!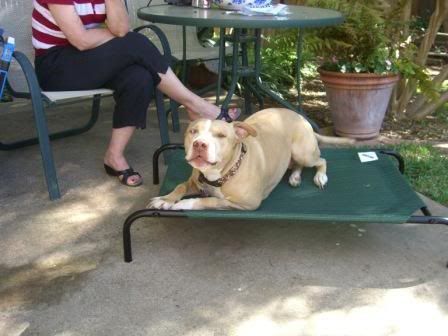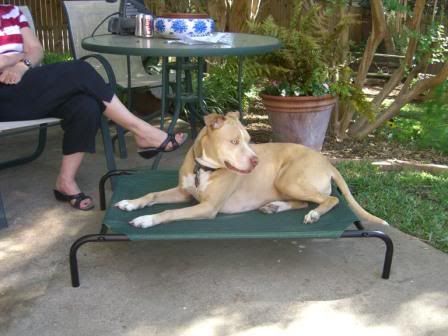 Hope your all doing well! Mom and dad are doing good and started a
blog
of their own for their travels (copy-cats!!!) so I get to see what they're up to. Mom says she misses me a lot and has been taking tons of pictures of dogs who get to go everywhere with their humans in Europe, she even has got to pet some and throw a ball for one in Hyde Park.
(I'm not jealous, I'm not jealous, I'm not jealous...)
Another reason for an update now, my
FFM

(former foster mom)
will be letting me stay over at her house the next couple weeks, because apparently my grandparents want to go visit mom!
FFM
says she's going to take loads of pictures and help me post on my blog as well!!
I look forward to hearing from you all!! :o)